In 1920, Alex Manoogian, founder of Delta Faucet, immigrated to the United States at age 19 from Smyrna, Turkey, to escape prosecution as a Christian Armenian. Manoogian established Masco Screw Company in Detroit, Michigan, in 1929. The company worked with the auto and defense industries exclusively until 1954 when Manoogian invented the single-handle ball-valve faucet. To protect Masco if the faucet did not sell well, Manoogian founded Delta Faucet as a separate company and Masco subsidiary.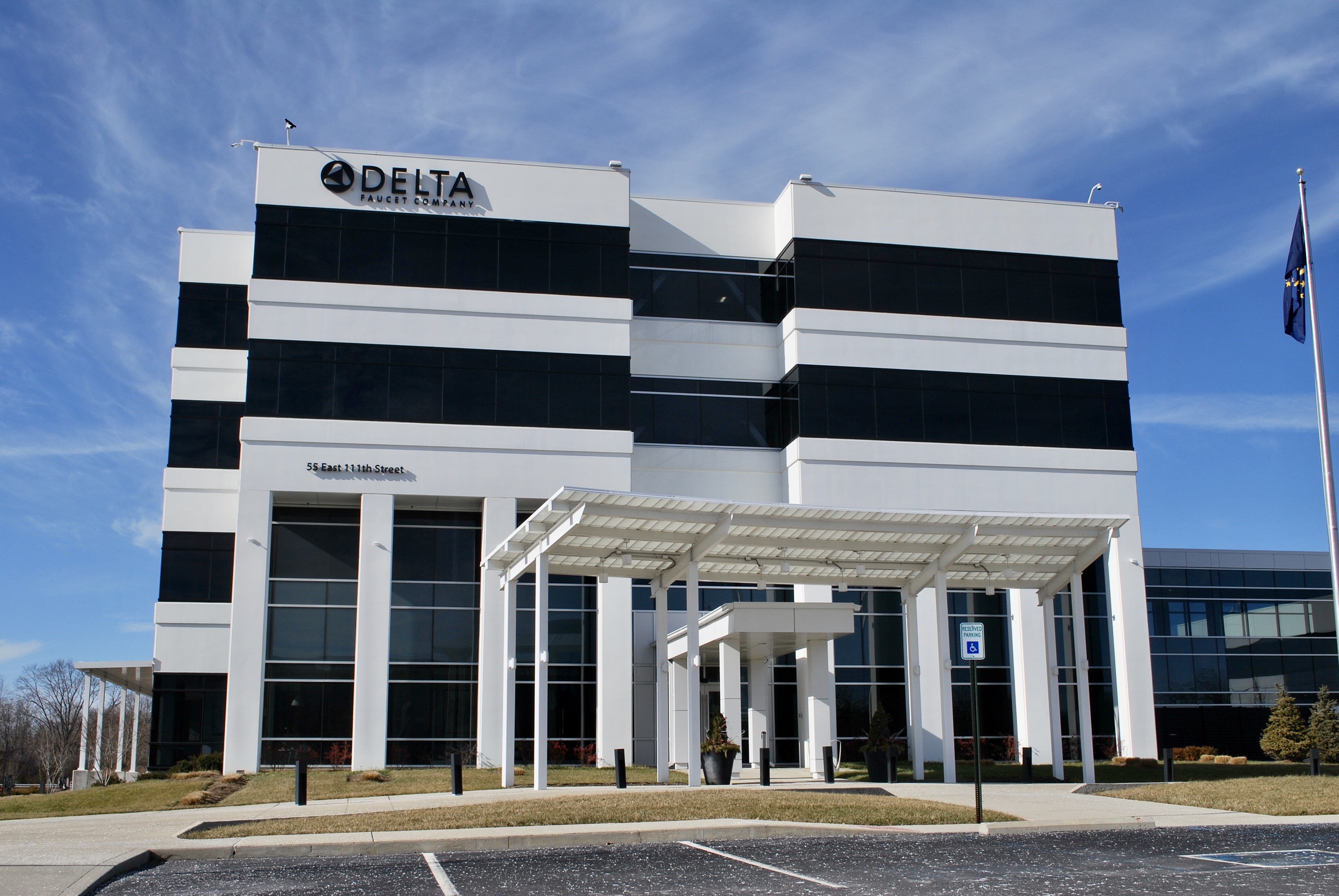 Credit: Kara Chinn
By 1958, sales of the faucet surpassed $1 million, and the company opened a manufacturing plant in Greensburg, Indiana, the next year. Within five years, sales of Delta faucets accounted for more than half of Masco sales. As faucets accounted for so much of its business, Delta's parent company became simply the Masco Co. in 1962. With the innovation of a double-handled faucet called Delex, based on the same rotating ball principle as Delta, the company increased its market share to 22 percent by 1975.
In 1981, Delta opened its 74,000-square-foot corporate headquarters in Carmel. As one of the North Meridian Street corridor's earliest residents, the company has contributed to the commercial development that has made the HAMILTON COUNTY community a center of economic significance in the Indianapolis MSA.
Delta also began advertising on network television in 1981, which at the time was considered a bold and unwise move. Unlike other manufacturers of faucets, Richard Manoogian, son of the company founder who became president in 1968, realized that there was a steady demand for the product. During the 1980s, sales of Delta faucets grew to account for over one-quarter of the plumbing fixture market share.
During the 1990s, Delta opened plants in Canada and in Jackson, Tennessee. In 1996, the Carmel corporate headquarters underwent its first expansion, adding 40,000 square feet to the original structure. In partnership with Cincinnati-based Proctor and Gamble, Delta launched the Simply Pur Water Filtration system in 2005.
The Great Recession of 2008 hit Delta Faucet hard. The crash in the housing market meant fewer sales. Between 2007 and 2010, the company laid off 1,000 employees. Delta, however, made the risky decision to continue to invest in research and development. In 2009, the company debuted its "Touch 20" technology that allows users to turn water off and on with a touch of a faucet handle or spout.
Dr. Thomas Foust and his development team originated another patented technology for Delta Faucet Company eventually called 30e Scientific, in 2010. This new technology uses ozone-infused water as a hand sanitizer instead of soap and other chemicals.
Introduction of the Touch 20 technology reinvigorated the company, and by 2013, Delta had rebounded with over $1 billion in sales. In 2014, Delta hired additional employees and renovated its Greensburg plant. In 2015, it invested more than $15 million to renovate and expand its corporate headquarters again. This time, Delta added an 82,500-square-foot building that connected to the existing structure. When the new building opened in 2017, the company renamed it Manoogian Center after its founders. Delta also converted some of its green spaces into walking and running trails.
In 2020, Delta granted Foust and his team a license to pursue further development of 30e Scientific for health-care and medical-device use because it determined that it fell outside its core business. The spinoff, also located in Carmel, employed six people and had received an initial investment of $2.5 million as of the second quarter of 2020.
Revised March 2021
Help improve this entry
Contribute information, offer corrections, suggest images.
You can also recommend new entries related to this topic.