(Dec. 4, 1929-June 30, 2013). Born in Decatur, Illinois, Robert Carter graduated from Millikin University with a bachelor's degree in radio communications and from Syracuse University with a master's degree in television production.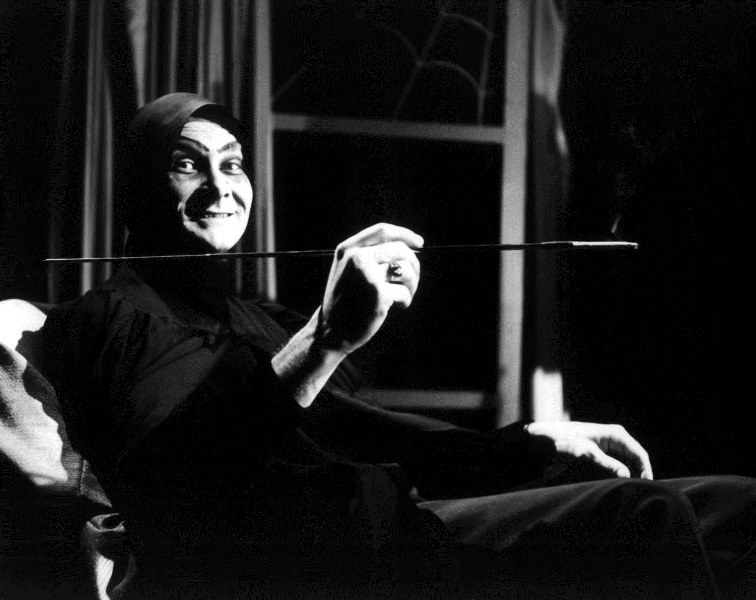 Credit: The Childrens Museum of Indianapolis via Wikimedia Commons
After two years at a Peoria, Illinois, radio station Carter started an extended career working for Sarkes Tarzian. Starting in 1957, Carter worked at Tarzian's Fort Wayne, Indiana, radio station as a weather forecaster, disc jockey, and host of the teen dance show host Club 21. In 1959, he filled in as guest disc jockey on Dick Clark's nationally broadcast show American Bandstand. Two years later Carter moved to Indianapolis where he worked in many capacities for Tarzian's television station, Wttv. Here, he assumed numerous roles, as producer, director, and performer. He hosted a three-hour morning talk show called Coffee with Carter.
In 1962, after Indianapolis' CBS affiliate Wish rejected Universal Studios' offer to purchase a packaged set of more than 50 horror, suspense, and mystery films under the name Shock Theater, WTTV stepped in. Tarzian purchased the compilation and tapped Carter to host the program. During commercial breaks still images of Carter with his voice-over narration filled the air-time before resuming the film.
Viewers and sponsors latched onto Carter's ad-libbed commentary, which generally consisted of him berating the film show. All of this led him to develop the character Sammy Terry, a take on the word cemetery, to replace the still images.
Sammy Terry first appeared in 1962 alongside classic horror films and low-budget horror favorites from the 1930s to 1960s. Decked out in Dracula-like garb with his face painted ghoulishly green, Carter emerged from a coffin on Friday nights to begin his show. Two horror films were shown with Carter's ominous laugh and campy banter punctuating the advertisement breaks as well as the intermission between films. His rubber spider George kept him company as well as the occasional special guest. Shock Theater was renamed Nightmare Theater to reflect the ominous aura Carter created.
Carter's following in the Central Indiana region rivaled those of other horror hosts of the era in much larger broadcast markets. He was inducted to the Indiana Broadcasters Hall of Fame, which the Richard M. Fairbanks Foundation established in 1981. The Indiana Broadcast Hall of Fame and the broadcast exhibit is located at the Indiana State Museum. Carter also holds the honor of being America's longest-running horror movie host. Carter's last appearance as Sammy Terry was in 1989.
Carter's son Mark Carter resurrected the role of Sammy Terry in 2010 and continues to make public appearances.
Revised March 2021
Help improve this entry
Contribute information, offer corrections, suggest images.
You can also recommend new entries related to this topic.