The Lilly Endowment Building at 2801 North Meridian Street was originally the home office of one of Indiana's oldest insurance companies, the Empire Life and Accident Insurance Company. Planned for four stories (only two of which were built), the structure underwent considerable design changes from the original sketches by the architectural firm of D. A. Bohlen And Son. This firm designed numerous other postwar Art Deco buildings in Indianapolis, such as branch offices of (then) Indiana National Bank, the Crown Hill Cemetery mausoleum, and several buildings at Marian College.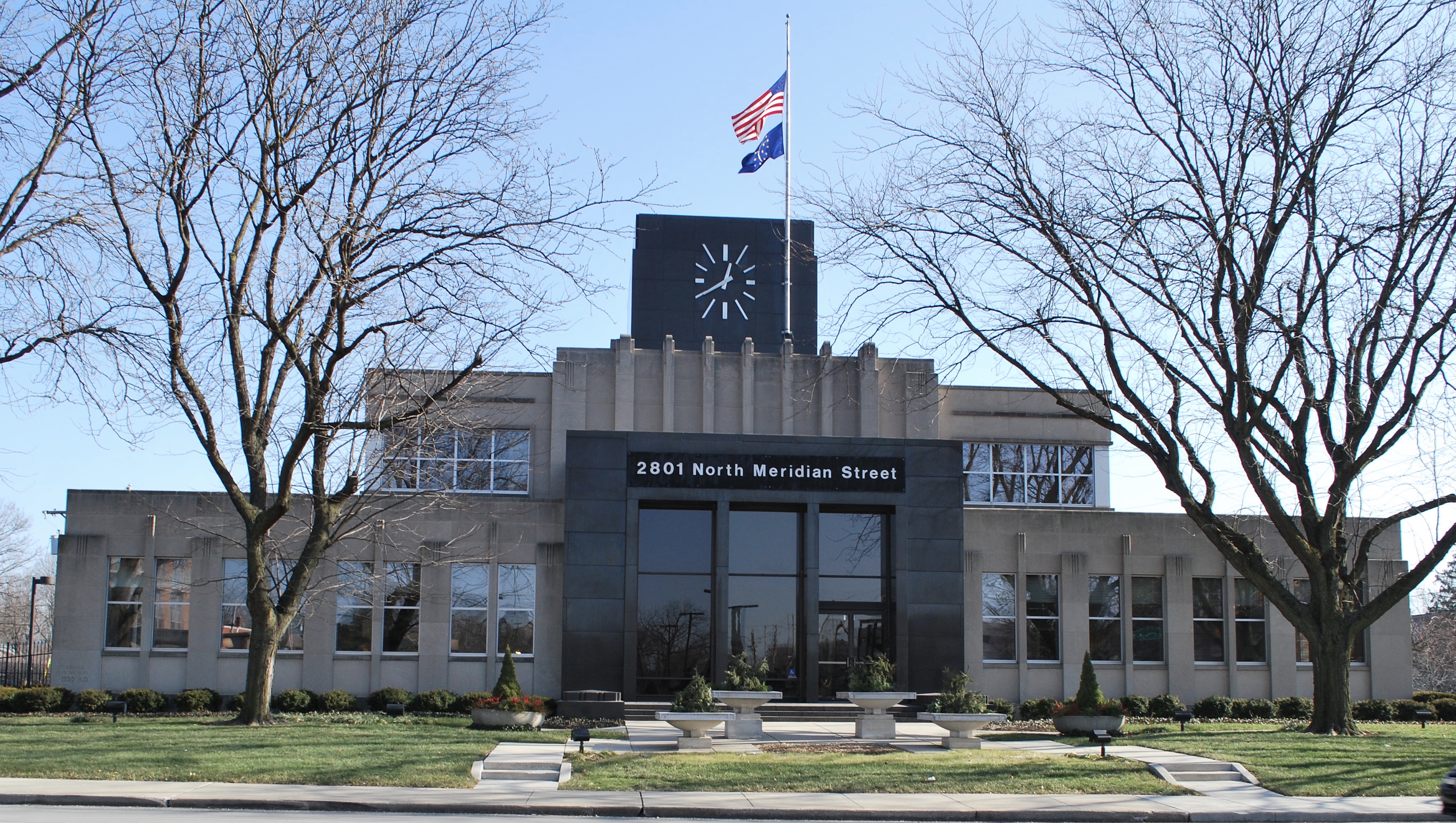 Credit: Kara Chinn
Construction began on the late-Art Deco building in fall 1949, with the cornerstone laid in 1950. The general contractor, Carl M. Geupel Construction Company, completed the structure in January 1952 for $450,000. In fall 1972, subsequent to its major program expansion, lilly endowment, inc. moved into the building, which the foundation now owns.
The building is an excellent example of Art Deco design with contrast of materials, texture, and linear emphasis. Features of the Bohlen design include the use of black Vermont granite for the giant central first-story entrance and third-story clock tower, contrasting with the Indiana limestone of the main block. The design also incorporates the application of vertical window fins on the first-story facade and second-story central pavilion alternating with horizontal banding in the second-story parapet.
An expansion of the east side of the building was completed in 2002 to provide a more direct and convenient entrance from the parking lot and to provide better meeting facilities and amenities for the staff and visitors. The modern architectural design by Rowland Design of Indianapolis incorporated the symmetry and limestone piers of the original Art Deco structure and addressed the handicap entrance and circulation needs. Rowland Design enhanced the landscaping of the original westside of the building in 2017.
Revised March 2021
Help improve this entry
Contribute information, offer corrections, suggest images.
You can also recommend new entries related to this topic.